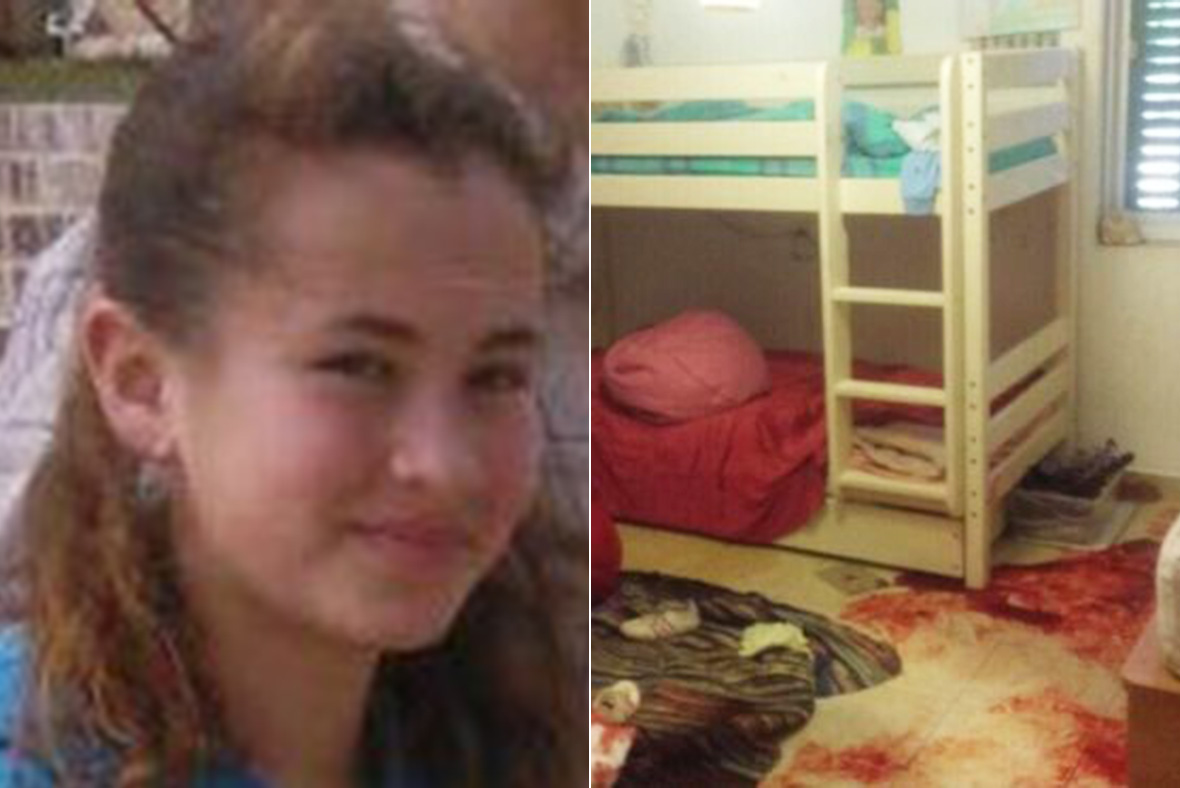 13 year old Hallel Yaffa Ariel lay sleeping in her bed in Kiryat Arba, Israel. A teenager named Mohammed Nasser Tarayra, seething with hatred, climbed over the security fence and proceeded quickly to Hallel's home. Mohammed broke in and crept into the bedroom where she lay sleeping. With eyes full of rage, he raised the knife and plunged it into Hallel's back again and again and again. Young Hallel died that day.
Members of Kiryat Arba's Rapid Response Team saw Mohammed go over the security fence on camera and rushed to confront him. By the time they arrived, Mohammed had already stabbed Hallel many times. He also severely wounded one of the security members before they shot him dead. In the picture, you can see the lovely Hallel and the blood stained floor in her bedroom after the heartless cold-blooded murder.
Mohammed's Palestinian mother said she was proud of him and called him a hero and a martyr. She expressed her hope that others would follow in his footsteps. You can be sure, that the Almighty will not reward Mohammed Nasser Tarayra for his heinous crime against our fellow human-being.
You can easily see the source of Mohammed's hatred for Israel. His mother obviously is filled with hatred and it is little wonder that her son became so full of hate, that he turned into a murderer: an assassin for the cause of Islam. What kind of mother would encourage such barbaric evil? THIS IS THE FACE OF ISLAM. This scene is played out all over the world with the willingness to advance Islam in the same fashion that Mohammed advanced Islam: through the sword.
The world can either give up and submit to Islamic hatred and tyranny, or they can fight back to preserve civilization from the Mohammedan hordes.
Zechariah 2:7-8, "Deliver yourself oh Zion, that dwells with the daughter of Babylon. For thus says the Lord of hosts:  After the glory hath he sent me unto the nations which spoiled you, for he that touches you touches the apple of His eye."
It is very foolish indeed to mess with Israel; for in so doing, such an one jabs a stick into the eye of YaHVeH.